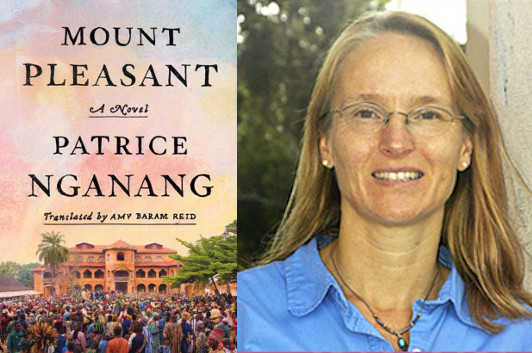 photo: courtesy Amy Reid
Lately, whenever I can steal a few moments to read uninterrupted, I've been diving into Patrice Nganang's Mount Pleasant, as translated by Amy Baram Reid. It's a fantastic novel, set in colonial-era Cameroon, but with an early 21st-century frame that allows for an imaginative reinvention of the past, playful without ever losing its darker edges. As Reid notes, there's a lot going on in this book for one translator to take on, but I'm delighted by how she's pulled it off so far, and eager to take the rest of the journey with her.
One of the phrases I remember from childhood—and maybe you do to—is "little pitchers have big ears." It amused me then because of the incongruity of the image (a pitcher with ears?) and also for its truth: kids soak up what they hear, even if the words aren't meant for them. It also describes the narrative premise of Patrice Nganang's Mount Pleasant: for if one kid hadn't been a sponge for all she had overheard, the stories of Mount Pleasant would have been lost forever.

At the heart of Mount Pleasant are the intertwined issues of conversation and translation: conversations in the present between the elderly Sara and the young Bertha, themselves translations of exchanges years before between another Bertha and the same Sara, a young girl who was transformed by stories into a young boy, Nebu. Conversations and stories swirl magically in the court of the Sultan Njoya and, years later, resurface to enchant both the idle youth of Yaoundé and the novel's readers. Artists discuss aesthetic ideals and lovers their amorous exploits; ambitious plots are revealed and scars disclose traumas born in silence.

Exchanges in the novel take place in multiple languages, and often on the borders between French, English, and German, between Shümum, Shüpamum, and Ewondo. Writing, drawing, and sculpture become the sites where tales and visions are translated—allowed to travel across time and space, as well as language. This concatenation of words and languages made my experience of translating Nganang's novel exceptionally challenging and rewarding.
8 June 2016 | in translation |