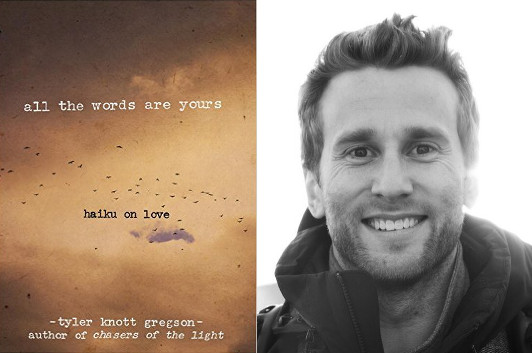 photo via Tyler Knott Gregson
Every day, Tyler Knott Gregson writes a haiku on an old typewriter, and then shares it with fans online. And there's a lot of them: hundreds of thousands spread out between Tumblr and Instagram alone, with more on other social media platforms. All the Words Are Yours collects some of what he's shared online along with new work, plus some choice examples of his photography (that's his day job). "I don't ever want to be taught how to do something artistic, no matter what it is," he once told an interviewer, "because I'm always worried that if I'm taught how to do it, I'll do it like the person that taught me." But, as you'll learn in this guest post, inspiration is quite a different matter…
It was one, always one, that pushed me into love. I say pushed because it was forceful, it was unseen, and it took the wind out of me. I had read a few before, poems I was instructed to, guided through, and tested on, but none stuck. None felt whilst reading, how I felt while sitting, staring at blank blackboards, counting every tick of every clock within earshot, waiting for the classes to end. Then it came, as suddenly as the joy rises in his work, as clearly as his observation, and I was pushed into love.

Walt Whitman may seem like a cliché choice to mention as a poet that has helped shape the writer, and more, the man I am today, but like all great clichés, it's true, and it's honest. When I first read "When I Heard The Learn'd Astronomer," something, and maybe it was the first something, made sense, and I for the first time felt like I did, as well. Being taught was something I struggled with, attention span lacks and boredom were things that I wrestled with every day of my school career, and reading this poem served as an introduction not only to Whitman and his entire way of seeing the world, but of being understood by someone, somewhere, even long since gone. Since the first reading, and every time I read it still, it makes me feel like maybe, just maybe the way I see the world isn't so strange, that maybe it is okay to find miracles in all the mundane and simple things, that maybe walking in complete amazement at all times is a blessing, and not a curse to be corrected and normalized.
18 October 2015 | poets on poets |

photo via Lenore Myka
The stories in Lenore Myka's King of the Gypsies are rooted in an uneasy intersection of American and Romanian culture, with characters from each nation struggling to make sense of each other and of their experiences. As she wrote, Myka explains in an interview, "I just tried to keep in mind what I knew about my friends' lives there and what I had observed and experienced as a Peace Corps volunteer living at essentially the same standard as my colleagues and friends. I tried to be empathic but also true to what I inherently felt about day-to-day living in a post-communist country." In doing so, her stories are set in often brutal circumstances, but, as she mentions in that same conversation, "ultimately my stories are about resilience, and in resilience there is always hope." In this guest essay, Myka reveals some of the other writers who've helped her understand how to create characters with the kind of complex resiliency you'll find throughout this collection.
When people unfamiliar with but desirous of reading short stories ask me to tell them my favorites, my brain goes blank. Ask me what I least like—now that's a much easier question to answer. But a favorite anything—color, food, hobby, place—unnerves the generalist in me. Doesn't it depend on the weather, the day of the week, whether or not you've had your morning cup of coffee, your mood?

Sure, there are the usual suspects: "The Things They Carried" by Tim O'Brien; "Pale Horse, Pale Rider" by Katherine Anne Porter. Lorrie Moore, Stuart Dybek, Deborah Eisenberg or, further back, Chekov, Mansfield, Faulkner, Hemingway. I'm leaving dozens of my favorites out here; the list becomes unruly. Lest we get cynical about contemporary literature, there are, in fact, many great short story writers, old and new, out there. There will no doubt be many more to come.

The frustration and beauty of being a writer is that you are always learning. My own writing projects/puzzles often determine my current list of favorites; these favorites become my teachers. Right now, I am studying character and so am obsessed with Grace Paley, Jane Gardam, Mavis Gallant. I like tough, scrappy old ladies because I hope one day to be one. Mostly, I feel that I am trying always to write towards these authors, to emulate in my own work something that might distantly echo the near-perfection they achieve.
11 October 2015 | selling shorts |