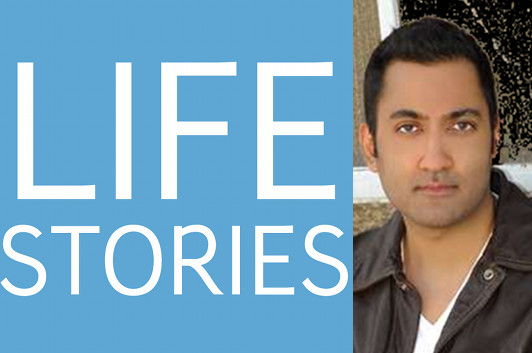 photo via AshokRajamani.com
In this episode of Life Stories, the podcast series of interviews with memoir writers about their lives and the art of writing memoir, I talk with Ashok Rajamani about The Day My Brain Exploded, his account of recovering from an AVM, or arteriovenous malformation—a cluster of veins and arteries that formed in his brain in the womb that burst one afternoon in the spring of 2000. Among other topics, we discuss just why the AVM burst when it did, Ashok's father's curious reaction to his hospitalization, the callousness of the doctor who performed the surgery that saved his life, and the full extent of his injuries—including what it's like to have to rediscover your sexual orientation.
We also talk about Ashok's decision to tell his story in order to raise awareness about the range of traumatic brain injuries—including cases like his where the extent of his condition is not immediately apparent—and how, although he's only met one other person in "real life" who was also recovering from an AVM, he's gotten in touch with many others, along with other brain injury victims, through the Internet. He's also compiled a list of brain injury resources which he hosts on his website.
If you enjoyed the previous Life Stories episode with Susannah Cahalan about the autoimmune disorder that affected her brain, you'll want to give this episode a listen—and if you haven't heard that episode yet, then you should listen to it after you hear Ashok's story.
Listen to Life Stories #26: Ashok Rajamani (MP3 file); or download the file by right-clicking (Mac users, option-click).
10 March 2013 | life stories |