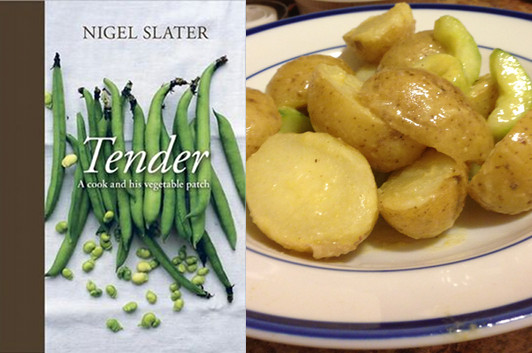 I got a new cookbook for the holidays—Nigel Slater's Tender—and I've spent the last week or so poring over the gorgeous photography and Slater's stories about how he began growing vegetables in his backyard in London. One of the easiest recipes I found during my initial reading was for a salad of boiled potatoes with cucumber slices, in a Dijon dressing (with a bit of cider vinegar, olive oil, and crushed juniper berries). So I tried it last night, and it came out really well! It's very simple to make, maybe a half hour from start to finish, and the end results were delicious.
I think the next time I make this dish, I'll probably do a few slight adjustments: I used the high end of the recommended range of potatoes to boil, and that was probably more appropriate for a party of four, rather than just for me and my wife, so I'll bring that down a notch. And I suspect I could've added a little bit more black pepper to the dressing as I was mixing it; I gave the grinder a fair number of twists, but the dressing feels like it could stand a few more. I'm also vaguely curious about what swapping out the juniper berries with crushed garlic cloves might do in terms of flavor, but I won't be getting around to that for a while. (For one thing, I've got all these juniper berries left…)
This salad was so easy to prepare, though, that it encourages me to dive even further into Tender, and its fruit-themed sequel Ripe for additional healthy recipes. The winter's a great time of the year, after all, to be experimenting with potatoes and other root vegetables…
9 January 2013 | cooking |
I've known John Scalzi since the days when we were both kicking around USENET back in the 1990s, and it's been really cool to see his career as a science fiction writer blossom over the last decade. He recently launched a new serial novel, The Human Division, which is being published by Tor Books in weekly digital "episodes," and when the folks at Tor.com asked if I'd be interested in leading a read-along discussion, I jumped at the opportunity.
Well, the first installment just went online, to mark the early release of "The B-Team" to members of the Human Division mailing list. Here's what I can tell you upfront: The story is set in the universe of Scalzi's Old Man's War and its sequels, with a storyline that builds off the implications of the ending to The Last Colony—but the way Scalzi's framed this "pilot episode," newcomers can pick up the relevant information as they go along. If you click through, you'll see how Scalzi answered my own questions about how this serial brings back Harry Wilson, who first appeared in a short story at Tor.com back in 2008, and how Harry exemplifies a certain type of Golden Age science fiction hero…brought up to speed for contemporary audiences.
I'm looking forward to talking with Scalzi and his editor, Patrick Nielsen Hayden, about The Human Division in the weeks ahead, and I hope you'll join us.
8 January 2013 | read this |
« Previous Page