Back in early 2012, I met one of the founders of TruLOVEstories, a publishing company that had, in addition to its line of original romance fiction, acquired the archives to True Love and True Romance, dating back to the 1920s. When I got a chance, I poked around their website, especially a section where they reprinted a few stories from each decade. One of the stories they selected from the 1970s was so outrageous ("My Mother's Lover Is My Husband!")—and the other headlines on that month's cover so equally lurid—that I joked on Twitter that they should let me loose among the back issues and I'd put together a wild anthology.
Well, they saw that tweet.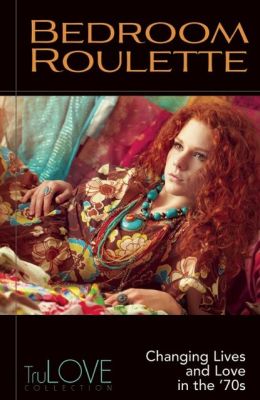 Bedroom Roulette collects 13 stories from the early 1970s, and the sexual revolution is in full swing, from "Free-Love Farm" to "The Night My Husband Demanded an Orgy." (The confessional tale that gives the anthology its title is helpfully subtitled "The Game Suburban Housewives Play.") The entertainment value is fantastic, but as somebody who's written about the cultural upheavals of this decade—in my '70s Hollywood retrospective, The Stewardess Is Flying the Plane!—I was also interested in what these stories could tell us about reactions to those upheavals. Putting this anthology (and its sequels) together, I sometimes described the archival search as like taking a core sample from a glacier; you get to see through the years what issues and concerns were deemed to be most resonant with the magazines' readerships. And the way the stories address those concerns was complex: Yes, some of these stories have dirty hippies, but there are other stories of feminist awakenings, and the attitude towards gays and lesbians was a bit more tolerant than I'd expected.
The link above will take you to Powells.com, where you can get the trade paperback edition; if you're interested in a digital version for the Kindle or Nook, or you just really like to order from Amazon or Barnes & Noble, visit the TruLOVEstories Bedroom Roulette page, where you can also find the story "Why Not? We Used to Be Married." And keep an eye out later in 2013 for the '80s anthology Women Undone, as well as some holiday-themed collections that will be appearing in the spring.
Oh! For the rest of January and on through February 2013, TruLOVEstories is also running a "Bad Boyfriend" contest, where you can share your short-short stories about awful beaus—because you just know some of the entries are going to end up on the site—and be in the running for a $350 prize. They're also accepting short videos as well as prose stories, so if you're ready to tell the world about your awful boyfriend, and how you turned him around or turned him loose, you might want to give that a look.
29 January 2013 | read this |

photo: Gentl Hyers
Welcome to the first 2013 episode of Life Stories, the podcast where I talk with memoir writers about their lives and the art of writing memoir. This episode features a conversation with master woodcarver David Esterly about The Lost Carving, which on one level is an account of the year he spent at London's Hampton Court Palace in the late 1980s, recreating a wall hanging by the late 17th-century carver Grinling Gibbons that was destroyed in a fire. But the memoir is also a meditation on the creative process, a consideration of the sometimes tense relationship between artists and patrons, and an investigation into how Gibbons achieved some of his technical accomplishments.
One of the things that fascinated me about the book, and that I made sure to talk about with Esterly, was that he had not originally set out to become a visual artist, let alone a decorative woodcarver. His first reaction to seeing Gibbons' work was that he wanted to write about the artist; then, he says, at some point he hit upon the notion that in order to really understand what Gibbons had accomplished artistically, he should try his hand at carving. When we met, decades after that revelatory moment, Esterly had just opened a brief exhibit of some of his most recent work at a Manhattan gallery, so I had an opportunity to see some of his intricately detailed still lives up close—it drove home another point that comes up during this conversation, namely the way that "realism" in art is often achieved through profound artifice…
If you're at all interested in making a life for yourself in the creative arts, or around whatever creative practice it is that gives you fulfillment, I encourage you to listen to this conversation and to read The Lost Carving.
Listen to Life Stories #19: David Esterly (MP3 file); or download the file by right-clicking (Mac users, option-click).
23 January 2013 | life stories |
Next Page »