In the second installment of the Life Stories podcast, I talk with Storm Large about Crazy Enough, a memoir of her mother's mental illness and the paths that Storm's fear of sharing her fate—instilled by a careless remark by one of her mother's psychiatrists when she was a child—led her down as a teenager and young adult. It's a raw account of hyper-abundant sexuality and near-overdoses, but also of how she eventually steered out of her downward spiral through the power of rock'n'roll, and our conversation reflects the frank, uncensored quality of her memoir. (Which is to say, there is language, some of which is NSFW, so you might want to break out the headphones.)
I met up with Large at Brooklyn's powerHouse Arena, where she was celebrating the release of Crazy Enough by performing songs from the stage version of her story—it was originally a one-woman show in Portland, Oregon, and there are plans in the works to bring the show to off-Broadway later in 2012. Based on what I saw and heard that night, it's got to be quite a show, and Large was kind enough to let me include two of the songs from that evening's performance in the podcast.
Listen to Life Stories #2: Storm Large (MP3 file); or download the file by right-clicking (Mac users, option-click).
PLUS, A REMINDER: I'm recording select episodes of Life Stories in front of a live studio audience. We'll be recording a "pilot" of the live show in Manhattan on Wednesday, February 22, at Wix Lounge (10 W. 18th Street) with Rachel Shukert, the author of Everything Is Going to Be Great, and Reverend Jen, the author of Elf Girl. Join us at Wix Lounge at 7:00 p.m. that evening; RSVP on Facebook if you can, so we can estimate how many chairs we need to set out. If you're in the area, I hope you can join us!
15 February 2012 | life stories |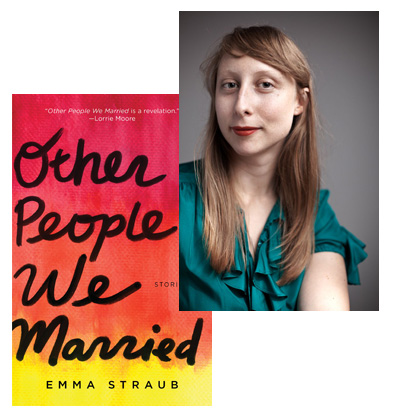 In early 2011, Emma Straub released a collection of wonderful short stories through the book publishing arm of the online literary magazine Five Chapters. A lot of people fell in love with those stories over the following months—one of them was Megan Lynch, an editor at Riverhead Books. Lynch was so impressed after hearing Straub read at a bookstore event that she didn't just buy a copy of the book, she bought the book… and now, almost a year to the date after its original publication, Other People We Married has an even greater opportunity to impress itself upon readers. (Riverhead will also be publishing Straub's first novel later in 2012.) Sometimes it's hard for a "Selling Shorts" to pick just one story to write about, and that's how it was for Straub. She's got a list of great stories that helped awaken her to the possibility of writing in this genre, and she's still discovering amazing stories by new writers. And I won't be surprised if, some day, another writer comes along who talks about stories like "Fly-Over State" or "Puttanesca" or "Marjorie and the Birds" the way she talks about her favorites.
I didn't write a short story until I was twenty-six, and already in graduate school. Up until then, I'd fancied myself a novelist and a poet. My writing could either be plot-driven or language and image-centered, with character-driven human emotion itself falling somewhere in the chasm between them.

People may love to mock the proliferation of MFA programs, but I can say without hesitation that my MFA experience, at the University of Wisconsin-Madison, introduced me to the subtlety, epiphanies, and to the millions of minute shifts in feeling. Of course, I wasn't actually being introduced to these concepts, not having been born a robot, but I was given a much better language for understanding and describing them.

Some of the stories I read during those first six months or so will always stay with me, no matter how many stories I read and love. I suppose it's something like remembering your first kiss, even though you've been kissed better a thousand times since. They include Flannery O'Connor's "A Good Man Is Hard to Find," and Toni Cade Bambara's "Raymond's Run." They include Michael Cunningham's "White Angel," and Richard Ford's "Rock Springs." They include Raymond Carver's "Cathedral," and Lorrie Moore's "You're Ugly, Too." Sometimes your first kiss is an epic one. I went on to read famous stories and obscure ones, anthologized classics and stories by my friends. I was obsessed.

And some obsessions, like kissing, never go away. This last year I fell hard for stories by Stuart Nadler, and Dan Chaon, and Caitlin Horrocks, and Megan Mayhew Bergman, and Adam Wilson. Short stories make me feel, even more than poems or novels, that some things are still possible: that there are other languages out there for me to learn, other geographies to traverse. And when I get there, to the other side of some rocky shore, I will be able to tell you all about it.
8 February 2012 | selling shorts |
« Previous Page
—
Next Page »