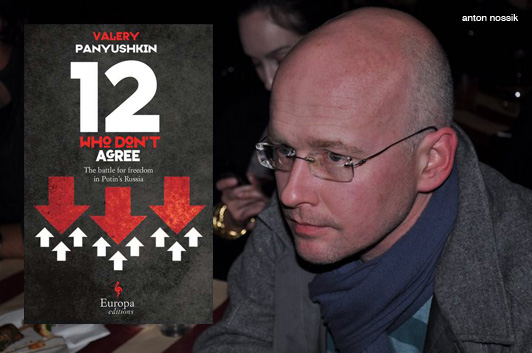 Earlier this week, I started writing for the USA cable network's Character Approved blog, which "celebrates the people, places and things that are making a mark by positively influencing our cultural landscape," basically serving as a literary correspondent—a role I inherited from Ann Kingman, one of the founders of the excellent Books on the Nightstand site. Every week, I'll be focusing on a book, or an author, or a publisher, maybe even a super-zealous librarian; if I think it's changing the world of literature for the better, I'm going to do what I can to share it with readers, just as I've been doing here, only reaching out to a different audience.
I started out with a list of summer reading recommendations, which ranges from Those Guys Have All the Fun, a marvelously thick oral history of ESPN as far back as the pre-launch fundraising and as recent LeBron's "Decision," to 12 Who Don't Agree, in which Russian journalist Valery Panyushkin talks to participants in a 2007 protest against Vladimir Putin's government to create a group portrait of what a progressive movement really looks like at street level. Plus three other amazing books I think folks are going to love… some of which I'll almost certainly be talking about here, too, in some context. We shall see!
30 June 2011 | read this |
In a early chapter of her memoir, I Wore the Ocean in the Shape of a Girl, Kelle Groom describes herself as a "ghost mother." She'd surrendered her son to her aunt and uncle shortly after his birth, knowing that her alcoholism had already gotten to the point where she was unable to provide the care he needed. When he died of leukemia just a few years later, her own life began to deteriorate as well. As the memoir reveals, getting sober was only part of the answer… and when, years later, Groom started to write about what happened, she found that the journals she'd written back then were little help: "Reading about myself," as she writes in this guest essay, "was like watching someone drown." It was only by starting over, and looking at her younger self from a completely fresh perspective, that she was able to find the story she sought—but also something more.
29 June 2011 | guest authors |
Next Page »