I spent most of last week at BookExpo America, the annual trade show where publishers large and small try to generate excitement among booksellers for what's coming out over the next few months. I was filing dispatches from the convention floor for Shelf Awareness, but I also participated in two author showcases where my background as the science fiction and fantasy reviewer for Shelf came in handy.
On Wednesday afternoon, I moderated a discussion with three authors from Tor's summer lineup. Carrie Vaughn told us about the stories in Kitty's Greatest Hits, a short story collection which explores some of the side paths she doesn't normally have a chance to pursue in her popular urban fantasy series about Kitty Norville, a werewolf with a call-in radio talk show. My pal John Scalzi was promoting his just-released Fuzzy Nation, which has just debuted on the extended New York Times hardcover fiction bestseller lists. And Vernor Vinge shared some insights into The Children of the Sky, a sequel to his award-winning classic A Fire Upon the Deep which fans have been awaiting for nearly two decades.
Tor.com has an excellent write-up of this panel; there was a lot for us to talk about and not a lot of time to do it, but we still managed to have a very freewheeling discussion. Each of the three books is fantastic in its own particular way; I wasn't even familiar with Vaughn's urban fantasy series—although I'm very much looking forward to reading another recently published book of hers, After the Golden Age—but you can walk right into the stories with no confusion whatsoever. And I don't want to spoil the fun of the Vinge too much for you, because that's not out until October, but since Scalzi's book is out now, I can tell you that he does his usual bang-up job of using a riveting story to slip a philosophical time bomb under your brain's radar. Like much of his fiction, Fuzzy Nation is easy to read, but it stays with you.
The next day, I was on a similar panel with authors of middle-grade fantasy, including Matthew J. Kirby (Icefall), Lisa McCann (The Unwanteds), and N.D. Wilson (The Dragon's Tooth). Younger fantasy fans will find a lot to enjoy in each of these novels; heck, I think older fans of, say, Neil Gaiman might also get sucked into Wilson's story about two orphans forcibly recruited into a magical secret society. I really enjoyed this conversation, too—there's some highlights in a Shelf Awareness BookExpo wrap-up. And with everything I learned about upcoming releases wandering around the display booths when I wasn't up on stage, I've got plenty of reading to keep me busy until I find out who I'll be interviewing at next year's show…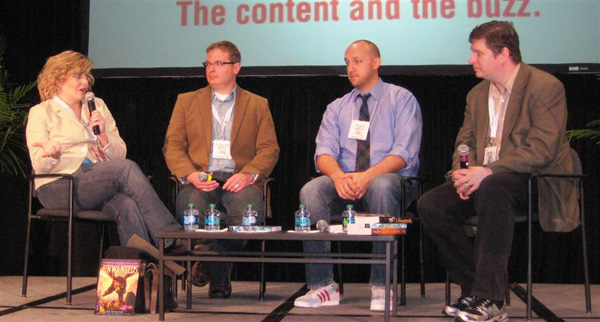 31 May 2011 | events |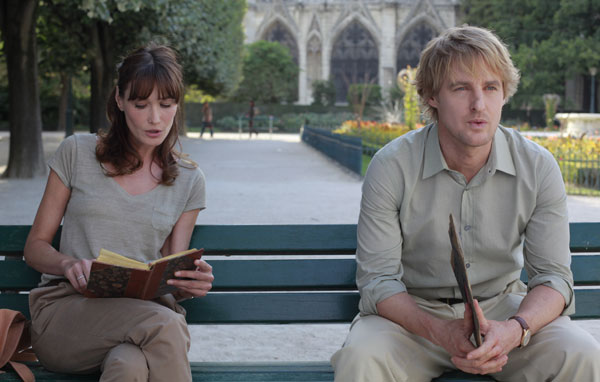 Earlier this month, a publicist for the new Woody Allen movie, Midnight in Paris, asked if I wanted to come to an advance screening—she knows I don't write much about movies on Beatrice, but, she hinted, there was something in the film I'd likely find very entertaining. I was game, so two weeks ago I dropped by a midtown screening room to see what was what. I'll admit that it didn't get off to an especially good start: The relationship between Owen Wilson's Gil, a screenwriter struggling to reconnect with his literary ambitions, and Rachel MacAdams's Inez, who doesn't seem to do much besides have wealthy parents, is quite obviously doomed, what with her constantly undercutting his dreams privately and in front of her (decidedly not their) friends. I don't mind stacking the narrative deck a bit, but there's such a thing as overdetermination, after all.
Still, I figured the publicist was thinking about something bigger than "Gil's a writer" when she invited me, and, sure enough, about a third of the way into the picture, Gil pauses on a Paris side street and finds himself in the era for which he's most nostalgic, the "Movable Feast" of the 1920s. A lot of historical cameos ensue; none of them have any particular dramatic punch, but some of them are greatly entertaining; Corey Stoll, for example, does an excellent job of delivering Ernest Hemingway's lines in a Hemingwayesque manner, and Adrien Brody is clearly having fun in his one scene as Salvador Dali. Of course, if there were nothing more to Gil's trips back and forth in time than the "postcards from the Lost Generation" vibe, things would get boring fast, so it makes perfect dramatic sense that on his second night in the past, he should become infatuated with Picasso's latest mistress, Adriana (played by Marion Cotillard).
Gil is able to express his authentic feelings and enthusiasms with Adriana (with all of '20s Paris, really) without the fear of ridicule that comes with being around Inez and her family and friends, which serves to widen the crack in his engagement until it's irrevocably severed. At the same time, by watching Adriana's obsession with the Belle Epoque, he's also able to recognize the shortcomings of his own nostalgia and, after the final reel, one assumes he'll learn to readjust his priorities to making the most of the creative opportunities in his present surroundings—enjoying the cultural highlights of the past without getting caught up in them. (The fact that he's met a French woman who's ten years younger than Inez—so, no, that's not the Carla Bruni cameo—but loves Cole Porter as much as he does presumably speeds that process along.) It's not so much a romantic comedy as a breakup comedy that hints at a better romance, and as I mentioned earlier it can be a bit too obvious on that front, but the historical sequences are cleverly entertaining, and I wound up liking Midnight in Paris more than I thought I would.
photo: Sony Picture Classics
23 May 2011 | watch this |
Next Page »