Last Friday night, Mrs. Beatrice and I had the pleasure of attending a New York Public Library event featuring W.S. Merwin, just a few days before his official appointment as the new U.S. Poet Laureate began. In a conversation with NYPL public programming director Paul Holdengräber, Merwin went all the way back to the beginning to discuss his love for language, starting with how he had learned to read when he was three (or maybe four?) from a book that had drawings of Native Americans living in the forests (which, back on the NYPL stage, soon got him to thinking about the lost lyric poetry of Native America). He got to thinking about poetry as "language about what cannot be said," citing the notion that "the more one wants to express gratitude, the less adequate the words are," and about poetry as an expression of the idea that whenever we look at something, we are seeing it both for the first time and the last time.
Holdengräber asked Merwin about the time when, as a young adult, he met with Ezra Pound at St. Elizabeth's—"it wasn't violent like Christopher Smart's Bedlam would have been, but it was pretty weird"—and Merwin reflected that "we all owe [Pound] somethng enormous," adding that every poet of his generation, upon reading Pound's translation of "The River-Merchant's Wife," must have felt moved by the imagery and the language. Pound encouraged the young Merwin, who hadn't yet acquired the life experiences to write meaningful poetry of his own, to work on translation, steering him towards the Provencal troubadors; years later, Merwin got another valuable bit of advice from Clarence Brown, who worked with him on putting the poems of Osip Mandelstam into English: "Don't worry about it—no translation ever spoiled the original." (Merwin also read a more recent translation, "Little Soul.)
Finally, Merwin talked a bit about his initial ambivalence towards the laureateship—"I'm not going to come to Washington and spend a lot of time wearing a suit and all that"—and why he finally decided to accept: "I'm horrified with our behavior towards the rest of life… denying global warming, at this point; I mean, honestly." He hopes, through this public role, to be able to say: "Look, there's another way of looking at the world… The feeling of being part of life itself is one of joy and elation."
26 October 2010 | events |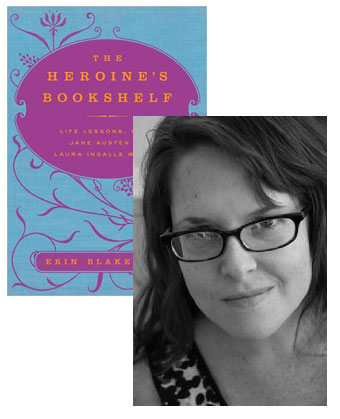 The "Intimidation" that Erin Blakemore writes about in the essay you're about to read is of a kind with the Resistance Steven Pressfield discusses in The War of Art, one of my all-time favorite books about creativity, and we're fortunate that Blakemore prevailed and completed The Heroine's Bookshelf, a delightful guide to what the heroines of some of the great novels by women writers, and those writers themselves—from Pride and Prejudice to The Color Purple, or from Laura Ingalls Wilder to Colette—can teach us about life.
By the way, New Yorkers: If you're free Tuesday evening (October 26), you might join Blakemore at Bookbook (266 Bleecker Street) at 6:15 p.m., where she'll kick off a women's literary walking tour of Greenwich Village—you'll see the house where Louisa May Alcott wrote Little Women as well as the homes of authors like Edith Wharton, Edna St. Vincent Millay, and Alice Walker—followed by a discussion back at the bookshop. If you do decide to go, and you're on Facebook, please RSVP; it's always helpful to have an idea of how many people might show up!
The longish pause that separated my book deal from my book writing really shouldn't have happened. I was on a tight deadline, inundated with commitments to my day job, and riding high on the wave of a debut book contract. What was my problem, again?

I blamed. Myself, of course. Couldn't I have picked a less intimidating subject than the great heroines and authors of literatures for my first published book? Sadly, I was the kid at school whose arm went numb with handraising and who always chose the 3,000-page tome when the 30-page children's book would do. Add overachievement to hubris and BANG, there I was, popcorn seeds all over my pajama top, wringing my hands over the blinking cursor at 4 a.m.

Weak.
25 October 2010 | guest authors |
Next Page »