You may recall that, earlier this month, I appeared on Minnesota Public Radio to refute some nonsense Garrison Keillor was spouting about the imminent decline of publishing. Well, late last week I did a pre-recorded interview with New Hampshire Public Radio, specifically the show "Word of Mouth," fielding questions about the history behind the acquisition of The Passage, the new Justin Cronin novel upon which Ballantine has placed blockbuster hopes, and the magnitude of the marketing campaign to launch that novel into the world. That segment aired Monday, with my comments used primarily as a setup for a more extensive interview with Cronin, during which he acquits himself quite nicely.
I had barely gotten 100 pages into The Passage when we did that interview last Friday, and over the weekend I was able to get another couple hundred in, but I'm still only at about the halfway point. So far, there's a lot to like about the novel—compared to Mira Grant's Feed, another recent brick-sized first-volume-in-a-trilogy about what happens to American society after scientific experiments lead to a plague of bloodsucking fiends, The Passage is by all means more elegant, and less overtly didactic (or, in some instances, less blatantly satirical). Then again, the plot of Feed is more tightly compressed, and though both novels thrive on hiding some important information until absolutely necessary, so far The Passage is requiring a greater suspension of disbelief. Further, one of the most significant stumbling blocks I've had in getting into The Passage is an abrupt shift of narrative focus as a story that starts out echoing the best storytelling of Stephen King suddenly jumps into Walter F. Miller, Jr., territory. (And that's not just me making stuff up: Cronin has acknowledged the influence of A Canticle for Liebowitz on his post-apocalyptic worldbuilding.) But that could just be on me; I made the effort to adjust to the new setting, and I'm eager to see where The Passage goes from there.
Meanwhile, if there are any other public radio programmers/producers who are looking for somebody to talk about literature or publishing, heck, I'm available, and I wouldn't mind hitting all 50 states by next June.
22 June 2010 | uncategorized |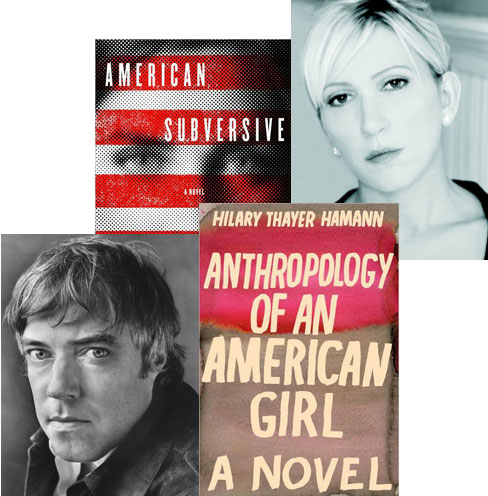 I'm doing my best to finish up with all the books for tomorrow night's evening of all-American fiction, a Beatrice reading hosted by the Center for Fiction. I'm really getting into David Goodwillie's American Subversive, one of the best novels of its type (which I'm loosely interpreting as a blend of social satire and literary thriller) since Jennifer Egan's Look at Me, and I'm eager to see how the interlocking stories of an online gossip reporter and a domestic terrorist will come together, although a short film posted to YouTube already gives me some hints.
I've also been enjoying Hilary Thayer Hamann's Anthropology of an American Girl, a novel that was first self-published in 2003 and, on the success of its initial sales, picked up by Spiegel & Grau to reach a wider audience. It's a very vivid description of high school alienation in the late 1970s, with all the budding sophistication and accumulated callowness that implies.
You can hear Goodwillie and Thayer Hamann read—along with Pearl Abraham and Jane Mendelsohn—by joining us at the Center for Fiction (17 E 47th St.) at 6:30 p.m. tomorrow night (June 22). It's free, we'll have books for sale afterward, and you can chat with the authors and maybe have a glass of wine. If you're able to make it, be sure to say hello!
21 June 2010 | read this |
« Previous Page
—
Next Page »