Next Wednesday, October 28, I'll be hosting the next event in the Beatrice reading series at the Center for Fiction, and it's an opportunity for me to pay a small tribute to one of my favorite independent publishers, Hard Case Crime. Over the last five years, it's established itself as a consistently excellent source for hardboiled crime fiction, with a mix of rediscovered gems and sensational new stories (as well as some manuscripts that have been waiting decades to see the light of day), and next week's reading is a perfect example of how its reputation was built.
It's been a decade since Russell Atwood debuted with the private eye novel East of A, and we've finally got the sequel: Losers Live Longer. Peter Blauner's Casino Moon was first published in 1994, but as Hard Case publisher Charles Ardai pointed out a while back, "I don't think it got the readership or the attention it deserved the first time out, in part because the original paperback edition had one of the least appealing covers I can remember." (That's certainly been taken care of…) And, finally, Ardai is on hand to tell us about pulp master Lester Dent and Honey in His Mouth, a novel that's waited more than half a century to see the light of day.
If you're in the New York area next Wednesday, I hope you'll join us at 7 p.m. at the Center for Fiction (17 E 47th St.) for a free reading; the books will be available for purchase, and you can mingle with the authors over wine afterwards.
21 October 2009 | events |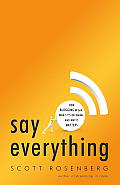 I was fortunate enough to be given the opportunity earlier this month to teach a two-day workshop on blogging for NYU's School of Continuing and Professional Studies, and there were several books that were especially helpful as I gathered my thoughts about what I was going to say to students during those two sessions. Scott Rosenberg's recently published Say Everything: How Blogging Began, What It's Becoming, and Why It Matters was a great resource for discussing the blogosphere's roots and identifying the stand-out characteristics of the first great blogs, while Bob Walsh's Clear Blogging provided helpful ideas about effective writing techniques, as did Darren Rowse's Problogger.
Reading Seth Godin has transformed the way I think about not just marketing but also self-presentation, and Purple Cow has been an especially meaningful book for me in that sense, but I'd also highly recommend his most recent book, Tribes. And it was Seth that led me to Hugh MacLeod, who just published his first book, Ignore Everybody: And 39 Other Keys to Creativity, which I rank right up there with Steven Pressfield's The War of Art and Gail Sher's One Continuous Mistake when it comes to inspiration for creative writers.
I also learned a lot about online writing from The Twitter Book, where Tim O'Reilly and Sarah Milstein lay out some basic principles that, again, helped me get a better grasp on self-presentation and finding my online voice. There's solid info in there whether you're blogging for a business or just for yourself.
20 October 2009 | read this |
« Previous Page
—
Next Page »